MRNA VS. CONVENTIONAL VACCINES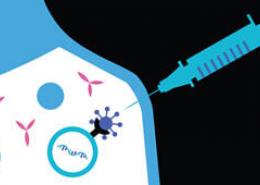 Meet our new Chief Patient Officer, Dr. Dara Richardson-Heron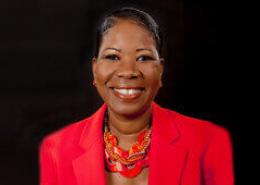 Working Together to Empower Women
Reducing Health Disparities in Latino Communities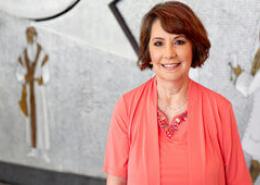 Pfizer Women's Resource Group
Universal vs. Single Payer Healthcare
2021 Pride Journal – Celebrating the LGBTQ+ Community With Pride
We are honored to share the 15th anniversary edition of our Pride Journal – a platform where our LGBTQ+ Pfizer Colleagues and allies can share personal experiences of struggles, triumph, and their hope for the future in honor of Pride Month. Read the stories that have provided inspiration to so many:
Sylvie St-Laurent (She/Her)
Senior Director, Policy & Public Affairs I&I Corporate Affairs
Paris, France
My name is Sylvie St-Laurent and I live just outside of Paris in a small country village of 300 people. I met Lucile, my spouse, in Montreal and we have been together for 22 years. She is French and our plan had always been to move to Europe together, which we did in 2005.
The middle child, I grew up with my two siblings on a dozen military bases across Canada and Europe. Moving around was a chaptered adventure that exposed us to the richness of different cultures, but also taught us the price of being a constant outsider. By the time I started my adult career at a major airline many years ago, the importance of fitting in had not been lost on me, and I skillfully applied that lesson in both my private life and at work.
In the late 80's, LGBTQ+ rights were not explicitly recognized in the Charter of Rights & Freedoms in Canada. And faced with the refusal of companies to extend spousal benefits to gay and lesbian couples, several advocates took their cases to court. My company was among the first to be sued, and by default, would set the legal precedent one way or another. The courts eventually found in favour of LGBTQ+ couples and as part of the Employee Communications team, I was brought in to help draft the announcement.
My second workplace lesson was witnessing the difference between cultural values on-paper and lived. Because even if the company was about to recognize LGBTQ+ rights, the HR executive was furious at the decision. He pulled out a Bible and pounded his fist on it, and demanded that the announcement not include the term "spouse." That ultimately proved impossible. As I posted the news bulletin around the building, I exchanged smiles with my few LGBTQ+ colleagues but nothing more. We celebrated after and outside of work. That seems like it was yesterday.
Over time, that company's workplace culture evolved, and so did my personal confidence. Coming out to family and friends, and eventually in that first job was not easy but everyone (and most relationships) survived the news and I have never looked back.
I joined Pfizer in 2002, and I occasionally still have to "out" myself to new team members or managers, but it's pretty much uneventful. I wish that for all colleagues today and in the future. In France, we have had several watershed moments in recent years thanks to the tremendous support from leadership and the many colleagues who have registered as LGBTQ+ allies. Colleagues and friends who have found their voice, and parents who are joining OPEN to support their children.
However, there is still more to do. Believe it or not, being lesbian or gay does not make you an expert in all things LGBTQ+, much less for other underserved groups. We all need to be educated on issues impacting others, and just as importantly, we all have a role in being allies to others. Pfizer's OPEN network is a tremendous legacy and resource for the future, particularly for colleagues in countries where being LGBTQ+ is not socially or politically accepted. Ironically, the safe haven for them is the workplace. What a paradigm shift. Thank you all.
John Shaw (He/Him)
Oncology Regional Commercial Director
U.K., Remote
In 1997, a couple of years after studying at University I was looking for a job with a large U.K. or global organisation. I wanted to join a company that offered great career development opportunities in a culture where I could thrive. My best friend, who worked for Pfizer at the time, offered to put me forward for a field representative role and I remember being very nervous for my interview, and here I am 24 years later!
I had only come out to my family and friends one year before joining Pfizer and was still getting comfortable with being open about my sexual orientation. At the time, I was concerned that if I came out it would impact how my colleagues, my manager, and even customers behaved towards me and that it might even hinder my career development. I have never knowingly experienced any homophobia at Pfizer and so this was all based on my own fear of what I thought might happen.
This continued for the first three years and it was honestly exhausting. I was living with my partner Graham, who is now my husband, and if I revealed to anyone at work that I had a partner I would make an effort not to mention his name or gender. I felt very guilty a lot of the time because I did not like denying the existence of the person I love.
I started to confide in a handful of colleagues at work who I considered friends and this was the start of my understanding the power of allies. One of these colleagues knew I wanted to be more open at work but at the time I lacked the courage to do so. With my permission, she offered to tell my manager for me. I remember she did this at a national conference meeting and he came straight over to me, gave me a big hug, and reassured me that it made no difference to him at all and asked how he could support me. This positive reaction gave me the courage to bring my true self to work and the confidence to pursue promotion opportunities, and I never looked back!
So if you are reading this and asking how you can be a better ally, not only to LGBTQ+ colleagues but to any diverse identities, here's how:
SAFE SPACE: An ally provides a safe space where friends, family, and colleagues can be themselves.
SPEAK UP: An ally speaks up in the place of an individual in situations where they may not be able to do so safely or may not be there at the time.
ACTIVELY SUPPORT: An ally supports friends, family, and colleagues by challenging the status quo, company policies, or even legislation to create a safe and equal environment.
Two years ago I took over the role of leading the U.K. OPEN CRG and I work with a team of colleagues passionate about our purpose to be the healthcare employer of choice for LGBTQ+ professionals and change lives in the LGBTQ+ community. We currently have over 300 colleagues registered as allies through our CRG membership in the U.K. and we are working with Stonewall on their diversity champions program that is supporting Pfizer U.K. to become an even more inclusive employer for all LGBTQ+ colleagues and their families. In 2019 Pfizer marched in London PRIDE for the first time alongside many other life science companies who make up the U.K. Proud Science Alliance (PSA). We had a small but perfectly formed group of 30 Pfizer colleagues and we are looking forward to when we can attend London Pride again in person with many more colleagues, hopefully in 2022!
So much progress has been made in the LGBTQ+ community over the last 20 years in particular, and the journey towards true equality will continue into the future. Allyship is key and we are fortunate to work for an organisation with leaders who have placed the need for a diverse and inclusive culture right at the top of the agenda. But it's not just down to leaders, creating an inclusive culture is the responsibility of all colleagues across the globe to get involved.
From an external perspective, we know that inequalities exist in the healthcare system and this is the case for the LGBTQ+ community. Charities like Macmillan here in the U.K. have completed research into LGBTQ+ people living with cancer and identified differences in diagnosis, treatment, and survivorship of LGBTQ+ people compared to their heterosexual counterparts. We have seen how both the power of science and the power of talented colleagues in life science companies like Pfizer can lead change throughout the pandemic. As a global healthcare company we have an opportunity to work with charities like this and with governments to lead the conversation to drive equity for all in healthcare organizations around the world.
Karena Arrenon (She/Her)
Senior Publishing & Product License Support Manager
Global Product Development
Collegeville, PA
I'm 42 years old and still discovering who I am. Growing up, I always knew I was not quite like everyone else. And that can often be a painful place to exist for a young person trying to figure out who they are. So when people assumed I was heterosexual, it was easier to go along with it rather than to contradict them. When people assumed I was cisgender, I shrugged my shoulders and said sure, what else could I possibly be? However, the more my world expanded as I grew up, the more I experienced things that allowed me to thoughtfully explore just who I really was. And what I discovered was that binaries of any kind just don't seem to apply to me. The world doesn't exist in black and white, and neither do I.
I've always been aware that love was not exclusive to straight people, thanks to my favorite aunt, , who is a lesbian, and the people she was friends with. In my twenties though, I learned there were sexual identities beyond just gay or straight, which was quite a revelation as neither of those identities ever seemed to fit me. That was when I first began to realize that even though I knew I didn't fit into the boxes I was aware of, perhaps there was some label somewhere that would feel right for me.
In my thirties, I discovered that there is a spectrum that exists between allosexuality and asexuality. I learned that sexual attraction is more than just "who" we're attracted to, but also "how" we're intrinsically attracted to someone. And now, in my forties, I am further redefining not just what my sexuality means to me, but also what my gender identity means, because that too exists on a spectrum. Even though I'm comfortable with she/her pronouns and generally identify in many ways as a woman, I can now make space for the part of me that doesn't.
Since I was a child, I've always known that expressing your authentic self as someone who was not cisgender or straight was dangerous. My aunt was kicked out of her house while she was still a teenager because my religious, Latinx family would not accept her sexual identity. I had been subjected to bullying when my mother was in a relationship with a woman. I have seen and heard stories about harassment from friends. In many ways, being yourself is a risk those in the LGBTQIA+ community take every single day. But change is happening. Each generation is more open, and curious, and accepting of the ways in which people exist outside the standard binaries. It was that willingness to define themselves that helped me see beyond my own limited views. Because we are the only ones who get to ascribe labels to ourselves. It gives me so much hope to see young people defiantly express "this is who I am whether you like it or not." It also gives me the courage to do so for myself. I can say to people, I'm Karena and I'm an omniromantic demisexual genderqueer woman. And I know those labels can be fluid as I continue to learn about myself.
Ten years ago, I would never have imagined being so open about who I was in a professional environment. There was always the unspoken expectation that you keep your work separate from your personal life. But Pfizer is proving that a large company can do more than just tolerate diversity; they can embrace and encourage it. Pfizer acknowledges that we're more than just faceless employees, that who we are is a part of the work we do. And I'm thankful that I can feel safe expressing myself at work as authentically as I do in other areas of my life. My hope is that this shift towards acceptance continues to expand because every individual that can bravely share who they are teaches someone else that humanity is far from being cookie cutter.
James Donohoe (He/They)
Rare Disease Franchise Manager
Pfizer Biopharma Group
Citywest, Ireland
In May 2015, Ireland became the first country in the world to introduce full civil marriage equality for all its people, regardless of their sexual orientation, by way of a universal ballot. It's a day I will never forget. It's the day that the overwhelming majority of those citizens that voted told the little boy in me, the boy who grew up feeling less than, shameful, and lonely, that he was just as important as anyone else. That he deserved not just to exist but that he could celebrate and enjoy the benefits of marriage just like every other citizen.
This result represented so much more than marriage equality, it was Ireland saying to the tens of thousands of LGBTQI+ across the island that "you are just as important," and "yes, you have the right to marry who you like, but you are also entitled to the same human rights as other people."
As I said, I'll never forget that day in Dublin Castle as the result was announced. The memory of that feeling of comradery, joy, and release still gives me goosebumps to this day. In fact, it's very hard to explain that feeling, other than it was like a huge weight was lifted, a weight that was really very familiar and normal throughout my life.
When I was 16 and in a Catholic boarding school, I finally admitted to myself that I was gay. There would be several years before and after when the shame would drive me to emotional isolation, anger, and ultimately pain. You see I never really did feel that I fit in, not in my family (wonderful as they are), not in my circles of friends, not in the Boy Scouts. I just felt different and didn't know why.
At 16, prompted by that familiar heavy weight and by a teenage crush on one of my classmates (which horrified me), I stole money from my mother and mid-week, when I should have been at study, I climbed the wall of that boarding school and went to one of the local hotels where a hypnotist had been advertised. I will never forget that lonely trek to the hotel. I guess in my heart I knew it wouldn't work. I had prayed and prayed for years but the feelings just wouldn't dissipate. I had called the Samaritan's helpline on many occasions but could never sum up the courage to tell them I thought I was gay. I used to tell them that I was depressed and sad. I must say that helpline was such a blessing to me as a young boy. It was essentially a lifeline during a very bleak time.
I remember how nervous I was waiting for the call to the hypnotist's room. When it was my turn, he knew immediately that I was very nervous. He was a gentle man. He asked me how he could help me, and I blurted out that I was gay and asked him "if he would make me straight." He smiled and sympathetically told me that he couldn't. He did, however, tell me that he could help me relax about it and he did some relaxation with me that day. He also brought me back the next week for free and impressed upon me the fact that I was actually not abnormal! What a wonderful, caring man.
I could write a whole essay on the following years of my life journey. It's been one of loneliness, heartbreak, isolation, and depression but over the last 15 years one of joy, peace of mind, serenity, and contentedness. My experiences in early life and during my coming out phase have shaped who I am today and have made me resilient, socially conscious, and emotionally intelligent (you have to be hiding who you really are and in the shadows for so many years)!
People interest me greatly and I have an extremely diverse group of friends, many of whom display strength and courage at a level that blows my mind! Its why I absolutely love the fact that Pfizer invests so much in diversity and inclusion. I have great hope for the future. Not just for myself as I trudge the road to happy destiny, but for the little boys, girls, and people who experience the fear, loneliness, and shame that I and hundreds of individuals had to and still must face.
It's because of referendums like the Irish one that countless numbers will be saved this life- shaping experience. It's also because of socially responsible companies like Pfizer that everyone has a space where they can truly be themselves and where diversity, inclusion, and equity is not just a tick the box exercise but a real objective, with real KPI's!
I've seen the engagement in our diversity and engagement endeavours first-hand through my own involvement with the local CRG. Our colleagues have a healthy appetite for understanding what it's all about, what it means for us, and the impact that diversity and inclusion and equity has on them and our business! I have a lot of faith that the message is not just infiltrating but that its really resonating with colleagues.
So, all that's left for me to say now is "THANK YOU, IRELAND" and "THANK YOU, PFIZER." Thank you for allowing us all to be the best that we can be.
Laura Morrison (She/Her)
Director, Global Workday Functional Testing & Release Management
Global Business Solutions
St. Louis, MO
When I first wrote an article for the Pride Journal, it was 2008 and things looked very different in our social and political landscape than they do now. I wrote about how I was able to be "out" in the workplace for the first time in my life, my confidence bolstered by a company that supported me through non-discrimination policies, no matter who I loved. I also wrote of how my home state of Missouri didn't recognize my marriage, but we celebrated it anyway with family and friends.
Now, as I am about to celebrate almost 20 years of service with Pfizer, things have changed a lot and I would have never imagined where we would be today. Yes, I am still supported by my fantastic employer, which continues to do great work in the Diversity & Inclusion space, ensuring all colleagues feel valued, welcome, and can "bring their whole selves to work." Last year, Pfizer even received a perfect "100" score on the HRC Equality index for the 18th year in a row.
Marriage equality is now the law of the land in the United States, and LGBTQ+ people no longer have to fight for our basic right to marry who we love. This only happened through the constant efforts of LGBTQ+ activists and allies alike, pushing for full inclusion and because companies like Pfizer stepped up in droves, adopting inclusive workplace policies, practices, and benefits.
But my experience being supported at Pfizer goes well beyond just that. Over the last 12 years since I wrote my original story, I have had so many amazing opportunities to get involved in projects and activities that have changed this company and impacted lives in real and concrete ways. Through my involvement with the OPEN CRG, I have been able to volunteer at many wonderful organizations like Food Outreach, which provides nutritionally-balanced meals for those living with HIV/AIDs, and Doorways Housing, which provides housing assistance for that same impacted community. I have been able to give input on and help draft core company policies like our U.S. Colleague Transition guidelines. I have attended a number of conferences in cities across the U.S. and around the world, learning new skills and using those skills to help drive our engagement strategy and programs for our Colleague Resource Groups.
Then, there's the most treasured experience of all. The friends I have made in my work with the OPEN CRG are some of the best, closest relationships I've ever had. I've also been mentored by such a tremendous group of senior leaders that live the values of being a true ally. My career here at Pfizer just wouldn't have been the same without all these experiences.
So, what do I have to say about a "View for the Future"?
First, we will inevitably see more change, in both the workplace and in the political landscape. While I believe the view for the future is bright, there is still a big fight ahead. Today, more and more people who identify as LGBTQ+ are entering the workforce and they overwhelmingly indicate that finding an employer that supports and values them is incredibly important in their employment decision. But in the U.S., it is still legal to fire someone from their job in 28 states just for being LGBTQ+. More than half of LGBTQ+ people still report hearing derogatory jokes or negative conversations about LGBTQ+ people in the workplace. Thankfully, Pfizer will continue to be on the leading edge of stopping this kind of harassment and discrimination. And each one of us, through our actions as an LGBTQ+ person or as an ally, can contribute in helping to move towards full inclusion and acceptance going forward, both within and outside the walls of Pfizer.
Second, I want to let colleagues know that whatever you put into one of the Colleague Resource Groups at Pfizer, whether as an identified member of that community or as an ally, you will get SO MUCH MORE out of that experience. While I am very proud of the large- scale projects I have been able to manage or participate in with my day job, I am even more pleased and fulfilled by the tremendous work that I've been able to impact at the local, country, and even international level with my participation in the CRGs. These groups are always looking for help, and management is always supportive of these activities. You will have opportunities to learn and grow in ways you've never dreamed of by just saying "yes" and giving your time in this way. Get involved!
Lastly, as I look to the future, one of the most exciting things for me is seeing the incredible passion around equity coming from the next generation of colleagues joining the company. This next generation wants to work towards building a more inclusive workplace, while valuing the experiences of people with different racial, cultural, sexual orientation, or gender identification backgrounds. So now it is my turn to give back and help them to navigate their careers at Pfizer. It will be an absolute honor for me to act as a mentor for others, the way that others have mentored me.
Here's to a great future for Pfizer and our entire OPEN community!
Letmar Rios-Mendias (He/Him)
Site Excellence Partner
Global Site and Study Operations (GSSO)
Global Product Development
U.K., Remote
Spanish Philosopher George Ruiz de Santayana once said, "Those who do not remember their past are condemned to repeat their own mistakes." These words were later paraphrased by one Sir. Winston Churchill at The Commons back in 1948 — and couldn't be more applicable today as we embark on setting up our "View for the Future" for the LGBTQI+ community and Pfizer. I was born back in the 1980s in rural Mexico, a land of striking natural beauty and filled with warm people who still manage to live a simple kind of life. Unfortunately my country is also one of the last strongholds of The Holy Roman Catholic Church and as such, is intrinsically affected by the blinkered views, biases and bigotry that are traditionally justified by its doctrines.
I grew up in a small village on the top of the Mexican Rocky Mountains (yes, we do have snow in winter and no, there are no cacti anywhere to be seen — only the occasional mariachi band lurking about!). Overall, mine was a fantastic childhood surrounded by a loving extended family and mostly spent in letting my imagination go wild whilst playing in the woods. However once my friends and I reached early teenage years, I was forced to acknowledge that I was downright different from those in my peer group; and my life-long friends rapidly vanished into thin air, as they could not possibly be associated with the "swishy" boy in the village. As such, the following few years were truly difficult, isolated, lonely. All I could do was to seek solace in my schoolwork, waiting patiently for the day when I could eventually escape.
This became a running theme over the course of the next few years of my life. However I was fortunate enough to be sufficiently gifted academically to progress through school faster than usual and managed to enrol in Mexico's most prestigious university ahead of my peer- group. I still vividly remember my 16-year-old- self sitting in the back of a taxi, watching the capital city of my state unfold before me, my eyes gleaming in raw excitement. Little did I know the need to move on would never go away and so I kept on moving: Who was I to deny my own soul the escape it so rightly desired? First, I left my state and relocated to the largest metropolis in the north of the country so that I could broaden my horizons and explore further possibilities. I was then lucky enough to enroll in various academic exchange programs that took me to Venezuela, U.K., Argentina, Japan, U.S., China and South Africa.
The travels of my youth effectively cemented the idea that my future lay outside Mexico, therefore as soon as I graduated from university I packed a suitcase, said my farewells, bought a one-way ticket to Toronto and embarked on a journey of a lifetime. After spending a brief, and inconsequential, period of time in Canada, my visa ran out and I found myself yet again gathering all my worldly possessions, broken dreams and a bottle of maple syrup into the very same battered suitcase. I then went to the airport and took the first flight to Europe, which happened to land me in beautiful Amsterdam.
Amsterdam was meant to be but a temporary stop in a more permanent move towards one of the few European capitals that had some resonance in my head. Little did I know at the time how easy it would be to fall head over heels for the beauty and candour of the city and its fantastic duellers. For the first time in my life I felt like I could be myself unapologetically, a situation that 21-year-old Letmar embraced wholeheartedly, taking full advantage of everything the Mistress of the North had to offer. From what can be reconstructed by photographic evidence, the first couple of years were simply excellent.
After effectively giving myself the gap year of discovery and debauchery that once appeared to be solely confined to youngsters in the First World, the universe threw its biggest trump card my way in the shape of the most beautiful man on earth, my beloved William. We met on a snowy winter night shortly after New Year celebrations back in 2010 and essentially moved in together the very same night. It is to this day that I still wonder why and how it is that life decided to finally pay back — and with dividends aplenty. Following a couple of fantastic years together in The Netherlands, we decided to continue our life journey in the U.K. as we saw an immediate need for my beautiful husband to spend more time with his family. And so, the morning of August 31, 2012, saw us arriving at Harwich port with a suitcase on each hand, a couple of Dutch bicycles and our beloved cat — not quite Dick Wittington but pretty close.
Life in the U.K. has been very good to me, there is no question about that — not least because it was during this time that I was fortunate enough to join the Pfizer family. Yet if I may be brutally honest, it somehow fells like I took a considerable step backwards after experiencing true acceptance whilst living in The Netherlands. In my not-so-humble opinion, this should highlight that in spite of how perceptions may be from the outside and/or how outspoken a country may be about its inclusivity and support for the LGBTQI+ community, this can be at times far detached from the actuality of experiences felt amongst the general population.
I have been unfortunate enough to experience this type of micro-aggressions and unconscious (as well as conscious) bias first-hand during my ongoing social interactions since moving here I feel that I have been embraced to a lesser extent than my husband has by both the general population, as well as the LGBTQI+ community, because unlike me he can "pass" as straight, and this appears to have a positive connotation to most people in this country. I can only imagine how soul-destroying it must be for those members of our community who are still struggling to gain affirmation by mainstream society, such as our transgender brothers and sisters, as well as those members who find themselves somewhere in between the gender spectrum. This clearly highlights that it isn't just the general population but also the LGBTQI+ community that would greatly benefit from some serious introspection, in order to finally acknowledge, in practice, that differences should be embraced instead of shied away from.
Despite this I remain ever optimistic about the gifts the future may bring my way and needless to say, I am extremely excited to carry on growing within Pfizer and hopefully becoming a positive influence for the queer youth of today (and that of tomorrow) in the world of Clinical Research. My innate need to keep picking up shop and explore this beautiful blue bubble we live in hasn't gone away. My husband and I are still very much planning to tick a few more countries off the list over the coming years. However, both of us are set to eventually hang our world-trotting boots and settle in Mexico during our later years. Therefore, I can only hope that the message of acceptance that is currently being conveyed by Pope Francis, along with increasingly prevalent pro-LGBTQI+ legislation, as well as equity in job opportunities being offered by world-leading employers like Pfizer, will bring positive winds of change to the currently stale socio-political sphere in my country, as well as that of the rest of Latin America.
Deanna Schwarz (She/Her)
VP, Business Analytics & Insights
Emerging Markets & Hospital Finance & Business Operations
New York, NY
As a child, I recall one summer day when a well- meaning woman in the supermarket, observing me actively assisting with the shopping, complimented my mother on what a "well- behaved and helpful boy you have." I was the second child of three in my family, my parents' first daughter, with an older brother I looked up to and plenty of boys around my age in the neighborhood. I'll admit, at the time, I was the ultimate tomboy who kept her hair short and didn't mind wearing my brother's hand-me-down clothes. I elbowed my way into the neighborhood basketball and football scrimmages, challenged boys and girls alike to arm wrestling matches and sprints, and happily ended my summer days covered in grime and sweat. So, the woman's confusion was perhaps understandable given the gender stereotypes of the early 1970s.
As I became an adult, I continued to challenge gender stereotypes I saw around me. It was always important for me to look at the person in front me not as a woman or a man, but just as a person. But the truth is, I now recognize that my liberal view of gender was not as enlightened as I thought it was.
Until recently, we grew up learning that there was she (female) and he (male) and they (more than one of any gender). As a consequence, I assumed for most of my life that gender is binary, even though I was perfectly comfortable with the fact that sexuality is on a spectrum.
So, when my second child, Harley, came out six years ago as non-binary, my husband Steve and I were quite confused. We responded as well as we could, I suppose — listening closely to gain understanding and offering to be completely supportive. But the truth is we had no idea what it really meant.
For the first 14 years of Harley's life, there was never a question in my mind that we were raising a daughter. "She" was our impulsive, creative, outspoken firebolt! "She" loved Japanese animation, Harry Potter, and boy bands. "She" felt happiness, disappointment, and love.
All that time, however, Harley was also feeling discomfort, confusion, and anxiety. The pronouns we and others used and the assumptions we made because Harley was assigned female at birth weighed heavily.
As for the pronouns, language (and not just English) is still figuring this one out. Harley and many other non-binary individuals use they instead of she or he. Them instead of her or him. Their rather than hers or his. It takes practice to break the way we use language (and, by the way, I am still working on getting it right). But it matters.
The pronouns we use reflect our level of respect for a person. Using binary pronouns when speaking with or about non-binary individuals may feel more comfortable to us or be what we are used to, but doing so is putting our own comfort above that of the non-binary individuals we know in our lives. It is saying that Harley's identity is not valid simply because we don't understand it.
My hope is that while we wait for language to evolve to better reflect that gender is on a spectrum, we will collectively keep in mind the equity that each and every one of us deserves. You may not yet know any non-binary individuals, but I guarantee that you have met them. They have just not revealed that identity to you. Once they do, we need to affirm who they are through the language we use.
My mother corrected that woman in the supermarket who referred to me as a boy. Even at that time, it was an acknowledgment that being mis-gendered could be hurtful. It is important that we show the same level of respect to those, like Harley, who do not identify as binary.
I am an OPEN ally.
Eduardo Zuniga (He/Him)
Record to Report Team Leader
Global Business Solutions, Financial Services
San José, Costa Rica
When I joined Pfizer in 2016 as an individual contributor, my previous work experiences led me to believe it was better for me to hide a tiny part of who I am. Maybe this had to do with the discriminatory jokes I experienced since my childhood, but I never felt like I was in a safe environment before. When I joined Pfizer, I did not expect my experience to be any different. Luckily it was a new, great experience and Pfizer's culture made me realize we should never try to be someone else or be afraid of being different, and we should speak up when something is not right.
A couple of years after joining Pfizer, I was promoted to a leadership role. This was a big professional achievement for me, but I did not know the journey ahead of me. I thought it was mainly about chasing goals and improving metrics, but down the road I understood it was much more than that. l learned leaders play a critical role in building not only high-performance teams, but also our organizational culture. Because equity is one of our values at Pfizer, we should strive for a culture that makes everyone feel equally involved and supported regardless of their gender, race, nationality, sexual orientation, and gender identity or expression.
Fortunately, last year I was appointed to lead a Diversity and Inclusion initiative for my office and without a doubt I said yes because I wanted to expand my knowledge and gain new experiences. I also accepted because as a leader, I felt I had a duty to teach by example. How could I promote diversity and inclusion in my organization if I had limited knowledge about it? This opportunity helped me discover that I am very passionate about creating safe environments for colleagues to feel welcomed and appreciated for what they can bring to the table, an environment that doesn't focus on what we have in common but in our differences, a culture that recognizes the value diversity brings to the game and that we all are humans before anything else.
I encourage everyone who does not identify as LGBTQ+ to become allies and join Pfizer colleague resource groups. There is still work to do and progress to accomplish, not only in the LGBTQ+ community, but also in gender and race issues. It only takes one person to make the difference. Please remember diversity is a fact and inclusion is an act

Source: Read Full Article