SINGAPORE — When injected subcutaneously, the interleukin-36 (IL-36) receptor antagonist spesolimab significantly reduced the risk for generalized pustular psoriasis (GPP) flares, according to results of a study presented in a late-breaker session at the 25th World Congress of Dermatology (WCD) 2023.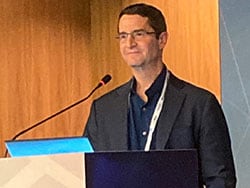 Dr Bruce Strober
In the phase 2b study, patients who received the high-dose regimen (a 600-mg subcutaneous [SC] loading dose, then 300-mg SC every 4 weeks) of spesolimab experienced 84% fewer GPP fares over 48 weeks compared with those on placebo, reported Bruce Strober, MD, PhD, Central Connecticut Dermatology, Cromwell, and clinical professor of dermatology, Yale University, New Haven, Connecticut. "Additionally, no flares occurred after week four, and this, in turn, translated into improved patient outcomes."
GPP is a rare, chronic, systemic neutrophilic skin disease. The resulting flares, characterized by painful pustules all over the body, can lead to sepsis, shock, and other life-threatening complications. "People who have it are considerably burdened by it, so targeted therapy of this disease is incredibly important because it leads to lessened morbidity and, importantly, mortality for these patients," Strober said.
"It's important not only to treat the flares but also to prevent them," he noted.
The intravenous formulation of spesolimab (Spevigo) was approved for the treatment of GPP flares in adults by the US Food and Drug Administration (FDA) in September 2022. It is now authorized in nearly 40 countries, including Japan, China, and the European Union.
The phase 2 Effisayil 2 study presented at the meeting evaluated the subcutaneous formulation of spesolimab. Data on subcutaneous spesolimab has been submitted to the FDA, and has received breakthrough therapy designation, according to the manufacturer, Boehringer Ingelheim.
Flare Prevention
In the study, 123 patients with GPP were randomly assigned 1:1:1:1 to one of four groups: high-dose spesolimab, medium-dose (600-mg SC loading dose, then 300-mg SC every 12 weeks), low-dose (300-mg SC loading dose, then 150-mg SC every 12 weeks), or placebo. In the event of a flare during the randomized treatment period, a patient was administered a single, 900-mg intravenous dose of spesolimab.
Nearly two-thirds of the participants were female and nearly two-thirds were Asian, with a mean age of about 39 to 43 years.
The mean numbers of GPP flares experienced annually by those in the low-, medium-, and high-dose spesolimab groups were 2.7, 1.9, and 2.4, respectively (2.4% in the placebo group). Fewer than a third had concurrent plaque psoriasis at baseline. Most (48.4% to 63.3%) did not have an IL36RN mutation.
Additionally, the Generalized Pustular Psoriasis Physician Global Assessment total score was 1 in 74.2% to 93.5% of participants, and 0 in the remainder.
The primary study endpoint was the time to GPP flare by week 48. The risk of developing a flare among those on high-dose spesolimab was 84% lower compared with that of those on placebo (hazard ratio, 0.16; 95% confidence interval [CI], 0.05 to 0.54; P = .0005). No patients on the high dose had a flare after the 4th week of the study.
Similarly, for the secondary endpoint (occurrence of at least one GPP flare by week 48). Strober and his colleagues reported that high-dose spesolimab was superior to placebo with a risk difference of -39% (95% CI, -0.62 to -0.16; P = .0013). By contrast, the risk differences (95% CI) for the medium- and low-dose spesolimab arms were -0.23 (-0.46, 0.01) and -0.31 (-0.54, -0.08), respectively.
The safety profile of subcutaneous spesolimab across all three doses was similar to that of placebo, and there was no dose-dependent trend. Reported adverse events (AEs) were mild. There were five (5.4%) AEs leading to discontinuation of the drug in the medium- and high-dose groups, but none in the low-dose group. Overall, there were nine (9.7%) serious AEs reported in the spesolimab groups, and three (10%) in the high-dose group; no deaths occurred on any dose.
Participants most often reported injection-site erythema, reported in 13 (14%) of the patients on spesolimab vs one (3.3%) of those on placebo.
"Overall, the study demonstrates that subcutaneous spesolimab is effective at controlling GPP flares, especially at a high dose relative to placebo, and supports subcutaneous spesolimab for the therapy for GPP flare prevention," Strober said at the meeting.
Targeting the IL-36 Pathway
Asked to comment on the results, Todd Schlesinger, MD, Clinical Research Center of the Carolinas, Charleston, South Carolina, who moderated the session, told Medscape Medical News: "It's very exciting to be able to have a subcutaneous version of the medication."
"I think the IL-36 is a great pathway," he said, referring to the signaling pathway within the immune system that is central to the pathogenesis of GPP and several other autoinflammatory diseases.
However, Schlesinger said that he would have liked to have seen data on how many patients ended up treated with intravenous spesolimab.
He added that he would like future studies of subcutaneous spesolimab to examine the effect in different populations that vary by parameters such as weight, race, and disease severity. "Just seeing how somebody who's flaring five times a year and you give them this medication and they're now flaring once a year — that's interesting data that we might like to know in the future."
Other than for preventing GPP flares, spesolimab is being studied for treating other IL-36–mediated skin diseases, such as palmoplantar pustulosis.
25th World Congress of Dermatology (WCD) 2023: Presented July 4, 2023.
The study was funded by Boehringer Ingelheim (BI). Both Strober and Schlesinger do research and consulting for BI, and receive funding from multiple other pharmaceutical companies.
Sandy Ong is a freelance health and science journalist based in Singapore. @sandyong_yx.
Source: Read Full Article