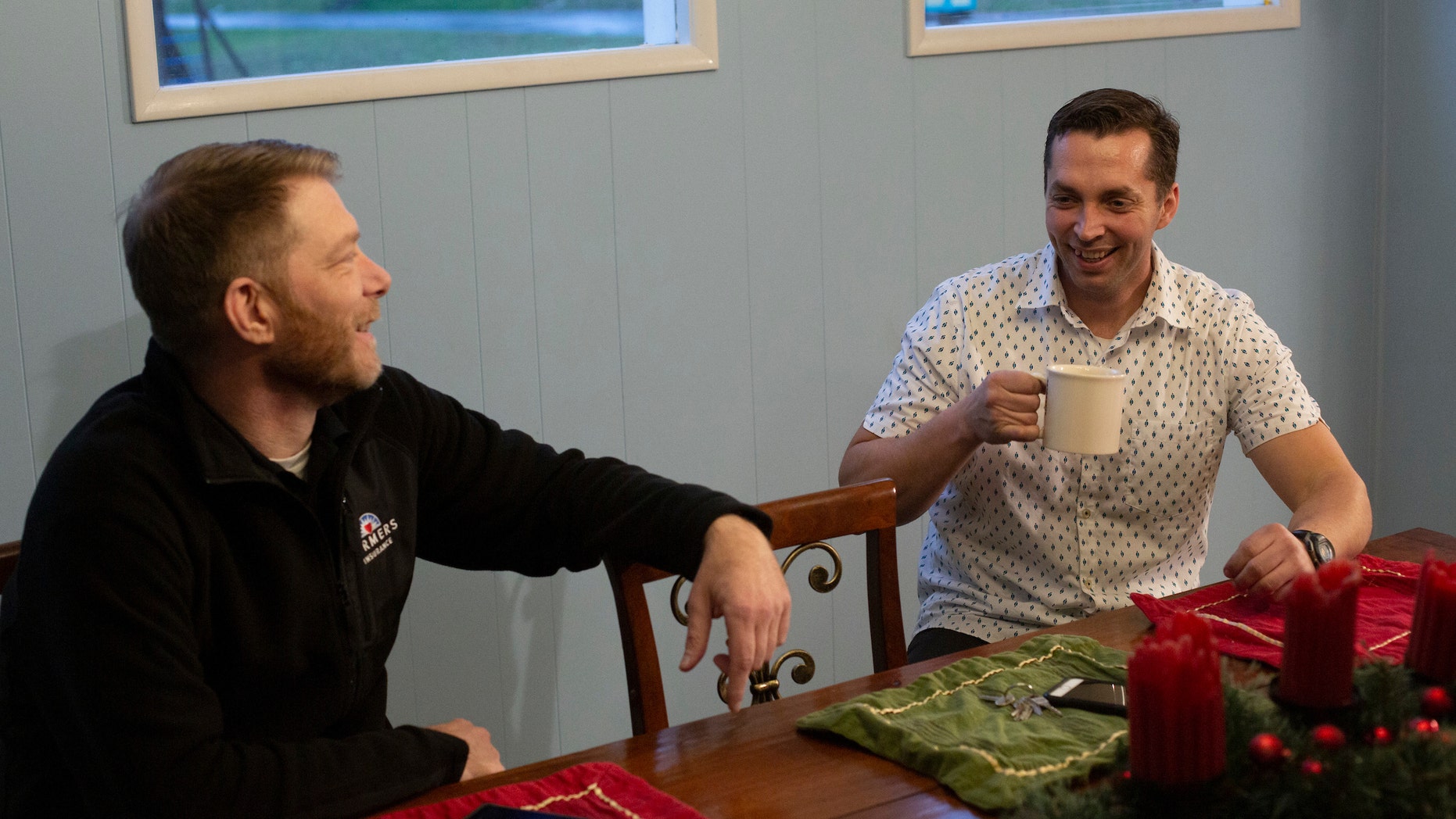 Vince Villano, left, and Justin McNeil, right, were connected by McNeil's husband, who has been prepping Villano's morning coffee order at Starbucks for the last several years.  
(David Ryder)
An Army veteran and former emergency services technician will receive the lifesaving kidney he needs next week thanks in part to a quick conversation he had with a barista at the Starbucks he frequents every morning on his way to work. Vince Villano, 41, was diagnosed with polycystic kidney disease 11 years ago, and recently began weekly dialysis treatment at St. Joseph's Medical Center in Washington, which is something he has been dreading since his diagnosis.
But he won't be on dialysis for long, as he is scheduled to receive a kidney from Justin McNeil, a fellow Army veteran who happens to be married to Nicole McNeil, the barista who prepares Villano's coffee every morning. Nicole McNeil said in a news release posted to the Starbucks website that she noticed Villano seemed upset while she took his order one morning two years ago.
The two spoke for a few minutes and he told her about the kidney disease that had plagued his family for decades, and how his future was now deemed uncertain because of it. He was on a wait list but knew it could be years before he found a match.
CLICK HERE TO GET THE FOX NEWS APP
"When I was first diagnosed, I felt like, 'Well, I'm dying,'" he said. "It was not my first encounter with mortality. I had some situations in the military. But this was really out of my control. There's nothing you can do. It's kind of a black cloud that hangs over your head all the time."
Polycystic kidney disease is a genetic illness that causes cysts to develop in the kidneys, resulting in enlarged organs that lose function. According to the Mayo Clinic, the disease can also cause serious complications like high blood pressure and kidney failure.
McNeil told her husband about her customer's health trouble and said he immediately responded with "I have a kidney. He can have mine."
BOY'S UNTIED SHOELACE LEADS TO BROKEN ARM, CANCER DIAGNOSIS
Villano has since grown close to the McNeils and their children, and testing soon came back revealing that Justin's kidney would be a good match.
They will undergo surgery on Dec. 26, and are both looking forward to drinking their caffeinated brew again soon.
"I would say that there are not many people that would do what he's doing," Villano said of his donor, who will turn 36 on the day of the transplant. "I don't know that I would do it."
Villano said he plans to use his good health to give back in honor of McNeil.
Source: Read Full Article