Soccer commentator Mark Schwarzer, 46, shares his day on a plate.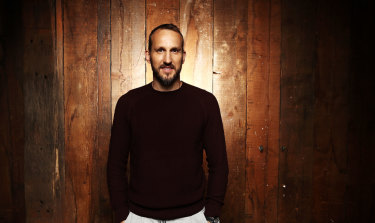 Mark Schwarzer.
8am My wife and I take our eight dogs for a walk, then feed them, which is like a military operation. Afterwards, I have fruit salad with Greek yoghurt and honey, plus a black coffee.
2pm I have a hot pot, which has chicken on the bone with Spanish sausage, garlic, carrots, onions and barley, simmered in a whole lot of chicken stock and red wine. This has been cooking for four hours.
6pm I do most of the cooking but tonight my wife makes carrot and fennel soup, which she serves with bread. We usually cook soups and stews slowly on an AGA.
9pm While preparing for a Champions League match I'm covering tomorrow, I have a piece of chocolate and a handful of pistachios.
Dr Joanna McMillan says …
Top marks for … All that home cooking. Making food yourself from scratch almost always results in a more nutritious meal. Soups are a great way to boost vegetable intake and cooking meat slowly means you don't produce the harmful compounds that can result from searing it over a high heat.
If you keep eating like this you'll … Have to watch you get enough fibre to ensure good gut health and a diverse microbiome. This day lacked wholegrains and legumes, which are major fibre sources. You also want to ensure you eat some raw or lightly cooked vegies, as some nutrients are destroyed by slow cooking. Others are made more available, so a combination is best.
Why don't you try … Making your own muesli mix to enjoy with your fruit and yoghurt for breakfast. Add beans, lentils and/or wholegrains to your soups and stews and ensure your bread is wholegrain.
Former Socceroo Mark Schwarzer is a presenter for Optus Sport.
This article appears in Sunday Life magazine within the Sun-Herald and the Sunday Age on sale April 21.
Source: Read Full Article