Kate Hudson has been on a serious mission to get back in shape after having her daughter, Rani Rose. She's been sharing a ton of info about her workouts on Instagram, and she keeps coming back to something called Mirror.
Back in January, Kate made headlines for nursing her daughter while she was doing a Mirror workout (damn, girl). Earlier that month, she also mentioned that she had "never done it" but was about to try it. (Her friend Sara Foster is a HUGE fan.)
@ErinFoster
What is the Mirror, exactly?
Mirror is a high-tech workout product that bills itself as an "interactive home gym," according to CEO and founder Brynn Putnam. It looks like a normal mirror, but it streams live and on-demand fitness classes in a broad range of workout genres.
"For the first time, the essential components of a great studio workout—variety, personalization, and community—are brought to the most convenient place: the home," Putnam says. Basically, the goal is to bring the gym (and workout classes) to your living room (or wherever you place the product).
For the record, this isn't like using a workout video at home. The display is actually responsive and has stereo speakers, a camera (with a lens cap, if you want privacy), microphone, and one-way mirror. "During a workout, instructors provide real-time instruction and even personal shout-outs," Putnam says. So, it's like you're in a class, while still being at your place. Kind of like Peloton, but with different classes.
You can also synch up a Bluetooth heart rate monitor or Apple Watch to enable a competition mode, and Mirror will track your ability to achieve, maintain, and recover from your target heart rate zones.
What kinds of workouts can you do with Mirror?
New classes are added every day, so there are a lot of different options to choose from, Putnam says. Classes are from a range of workout genres, including cardio, strength, yoga, Pilates, barre, and boxing, and levels range from beginner to expert so you can customize it to your capabilities.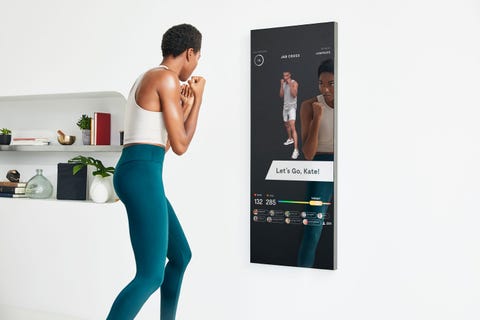 Mirror
How much does Mirror cost?

Well, there's a reason you see celebrities doing this—they can afford it. Mirror costs a lot upfront: It's $1,495 for the actual mirror. (You can pay $164 a month if you want to pay it off slowly.) After that, you pay a $39 monthly subscription for the classes and features. Once you get the initial equipment paid off, it's a little cheaper than your average gym membership…you just need to shell out $1,500 first.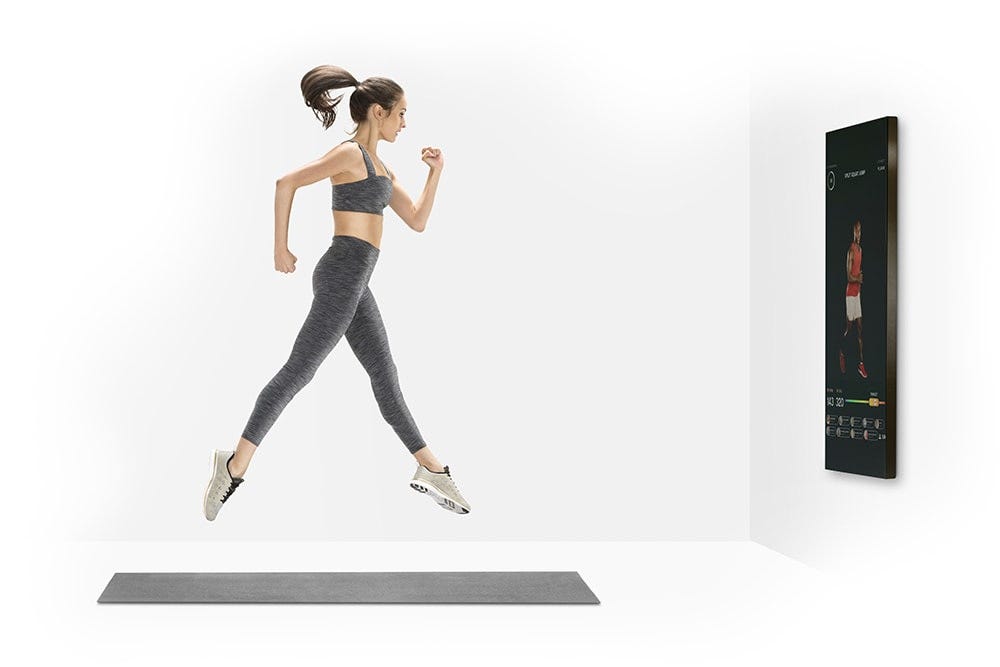 Still, people freaking love this thing. While Sara Foster is like a living, breathing ad for Mirror (seriously, she has an entire section on her Instagram about this), plenty of others rave about how convenient and awesome it is.
"Mirror is a game changer for me. As someone who uses any excuse to not go to the gym, you simply cannot beat the convenience of this product!" one person wrote on the site's reviews. "I really liked both seeing the instructor and my myself at the same time," another said. "It really helps to be able to do exercise classes right in your own house."
If you really want to up your workout game but struggle to find the time to get to the gym (and you just so happen to have a spare $1,500 laying around), this might be worth considering.
Source: Read Full Article