Out-of-network (OON) status has been financially advantageous for doctors who could not get reasonable in-network reimbursement rates with insurers. But in recent years, insurers have been making it harder to be OON, according to physicians and billing consultants familiar with this approach.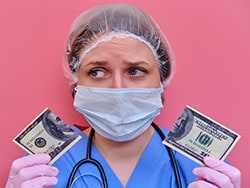 "It has become increasingly difficult for physicians to be out of network, and I believe that [being] out of network will eventually have to go away," said David J. Zetter, a business management consultant for physicians in Mechanicsburg, Pennsylvania.
Consultants said OON doctors have to do more paperwork, such as obtaining prior authorizations. In addition, reimbursement rates are lower, payments are delayed, and they encounter more difficulties appealing plan decisions. Plans now use the No Surprises Act (meant to protect patients from unexpected OON bills) to support their OON clampdown.
This trend affects many physicians. Zetter said some doctors purposely stay OON for all plans, while many become OON by default when they refuse to sign up with a plan, usually because of low rates. Many insurers, especially smaller ones that offer low rates, may sign up only a small minority of physicians. A 2017 study found that 21% of plans in the insurance marketplaces under the Affordable Care Act had signed up fewer than one quarter of available providers.
As a result, many doctors who remained OON are abandoning that approach, says Zetter. He reported that doctor-clients who have been OON for years are now going in-network. "One of them is a neurologist who has been out of network for 15 years," Zetter said. "He doesn't want to deal with all the hassles of being out of network anymore."
Zetter also predicts that plans' OON clampdown may force more self-employed physicians into employment. But he warned that employed physicians are not protected from the financial problems affecting self-employed physicians. "Employed physicians' salaries are pegged to reimbursement rates for self-employed doctors," he said.
The tougher stance on OON providers can heighten feelings of burnout, said Gary Price, MD, president of the Physicians Foundation, an advocacy organization for physicians. "The paperwork takes a toll on physicians as well as their staff," he added. "It's tremendously frustrating for staff who deal with it day in and day out."
Will Taking Payers to Court Be Successful?
Gregory Shangold, MD, an emergency physician in Storrs, Connecticut, said his practice, Northeast Emergency Medicine Specialists, is suing two health insurance companies for more than $1 million in unpaid claims. Shangold is an OON physician.
As the litigation continues, Shangold is heartened by two recent court victories by TeamHealth, a nationwide emergency medicine group, against UnitedHealthcare, the largest health insurer in the country. TeamHealth was awarded more than 12 million in unpaid OON claims.
"The TeamHealth victories send a message," Shangold told Medscape. "So many insurance companies don't expect any pushback from providers, because it takes a lot of money to file lawsuits."
But Shangold added that pursuing OON lawsuits against insurers is an uphill battle. His group, made up of 65 physicians and physician assistants at five hospitals, is relatively small. "The large, billion-dollar insurance companies have a lot more resources than we do," he said. "It's getting harder for smaller emergency medicine groups like ours to survive."
Why Is There Out-of-Network Status?
OON status is a feature of preferred provider organization (PPO) insurance policies, the most popular type of commercial insurance. PPO policies specify that all patients will be covered, albeit at different rates, whether or not their provider is in network. However, OON status does not work for health maintenance organizations (HMOs), and uncovered services such as aesthetic surgery do not receive OON coverage even under PPOs.
Traditionally, insurers based their payments to OON doctors on a percentage of their so-called usual, customary, and reasonable (UCR) fee ― what is typically charged for a specific procedure in the geographic area. This OON amount is often higher than what in-network doctors are paid, because insurers aggressively negotiate for lower in-network UCR fees.
OON status provides a kind of safety valve for doctors when in-network rates get too low, according to Adam Bruggeman, MD, a spine surgeon in San Antonio, Texas. "If there were no longer a viable option for doctors to go out of network, plans would reduce in-network rates even more than they have," he said.
Zetter said OON status has worked for many doctors. Offices that are willing to deal with the OON paperwork hassles can get acceptable payments, often by engaging outside consultants like him, he added.
OON strategy basically works like this: The practice quotes a UCR fee, and the insurer pays a percentage of it ― in many cases, roughly 60% of the doctor's fee. But practices that challenge that amount have been able to get 80% to 90%, Zetter said.
OON doctors often have the option to balance-bill ― to require the patient to pay the difference between their charge and what the insurer pays. But if the OON doctor asks for a so-called gap exemption, the insurer agrees to pay a higher rate than usual, provided the doctor won't balance-bill. Gap extensions are typically granted when there is no in-network doctor to perform the service. But there may be other reasons, such as a longstanding relationship with the patient.
How Doctors End Up Out of Network
Most physicians who choose to be OON are specialists who don't have a direct relationship with the patient, such as radiologists, anesthesiologists, pathologists, and emergency medicine doctors, Bruggeman said. He said some proceduralists, including a fellow spine surgeon in San Antonio, have been OON for years.
Now, as plans tighten in-network rates, many other doctors ― even primary care physicians ― are joining the OON brigade, Bruggeman said. He pointed to the growing use of narrow-network plans, in which rates are so low that only a small minority of doctors sign up.
Price, a solo plastic surgeon in Guildford, Connecticut, said he had to go OON with some plans before he recently retired. "In-network reimbursement with those plans got to be lower than my overhead," he said. "However, because pulling out of plans is tough on patients who have those plans, I waited a while to leave because I didn't want to disrupt patient care."
Physicians' use of OON status depends on the region, said David Smith, president of the consulting firm Kearny Street Management in Miramar Beach, Florida. "In South Florida, in-network commercial rates have sometimes fallen to or below Medicare rates, so a lot of doctors have gone out of network," he said.
In New York City, being OON is a common strategy, said Matt Dallmann, vice president of VGA Billing Services there. "Many physicians are still in private practice, so they have a choice on whether to go out of network," he said.
Insurers Are Slashing Payments
Working with insurers to get a reasonable OON rate has become harder during the past 3 years, Dallmann said. "What used to take us 20 minutes on the phone now takes us at least an hour."
One major reason for this has been insurers' increasing use of third-party repricing companies, such as MultiPlan, Data iSight, and Viant. As noted above, payers traditionally based their OON payments on a percentage of the UCR rate. But repricing companies find ways to lower the rate further, such as by establishing a "shadow network" that has lower rates, which could be a percentage of Medicare, Dallmann said.
"When a repricing company takes a substantial discount, doctors can contest the amount within a certain period of time, but often they don't know they can do that," Dallmann said. "You have to call and open up a case. If you follow their rules, then you usually get reimbursed the full rate."
Many insurers, however, have been whittling away negotiating opportunities. For example, in 2019, "Aetna applied a limit of 200% of Medicare, but that limit could still be challenged," Dallmann said. "By 2020, however, you couldn't challenge the limit unless you got the patient involved."
Impact of the No Surprises Acts
The advent of state and federal No Surprises Acts (NSAs) in the past decade has made things both easier and more complicated for OON physicians. These laws were a reaction to surprise billing, which occurs when patients are billed at higher amounts by OON physicians without the patients' knowledge.
NSA laws in several states, including New York and Texas, have made OON payment more predictable for doctors by establishing rates, such as a median payment rate for a service in a given area. The laws are basically limited to emergency situations or to situations in which the OON physician's hospital is in network. They prevent balance-billing of patients in exchange for allowing OON doctors to arbitrate their claims with plans through an independent dispute resolution (IDR) process.
"The Texas law is reasonable," said Ezequiel Silva III, MD, an interventional radiologist who is a member of the Council on Legislation of the Texas Medical Association (TMA). Texas' IDR can be linked to the OON doctor's billed charges or rates paid to all doctors, as determined through an independent database, Silva said.
Federal Regulations Are Under Challenge
The problem with the state laws is that they govern only a fraction of OON claims, owing to a federal exemption for the dominant employer-sponsored plans. The big prize in the no-surprise movement was the federal law Congress passed in 2020. That law went into effect in January 2022.
However, Silva said the federal regulations strongly tilted the IDR toward insurers. They based the IDR on the qualifying payment amount (QPA) ― the median of the insurer's own contracted rates ― rather than the states' use of the doctor's rate or rates paid to all doctors, even though these processes had been mandated by the federal law.
The TMA sued the federal government and won. The government was forced to change its regulations, effective August 2022. But Silva said the new version still favors the insurers, and the TMA has filed two more lawsuits against the government over the new regulations.
Silva added that the federal IDR process has other problems, such as a long wait list, a significantly higher fee for 2023, and strict limitations against batching many claims into one case.
Insurers' Crackdown Cites Federal Law
Because the federal independent dispute resolution process is based on what plans pay all doctors, insurers have been trying to reduce their in-network payments. For example, citing the anticipated federal law in 2021, Blue Cross and Blue Shield of North Carolina informed its highest-paid providers of emergency services that they would have to go OON unless they reduced their rates by up to 30%.
Also in reaction to the law, Shangold said one Connecticut plan set very low in-network rates for emergency services in its contracts with family physicians. "Family physicians don't deal much with emergency codes, so they accepted the low rates without question," he said. "But their low rates help bring down the plan's median rate for emergency services, which is used to determine an emergency physician's out-of-network rate."
Will Insurers Back Down?
Doctors and other providers have filed dozens of lawsuits against payers as a result of their OON policies. The strongest plaintiff is TeamHealth, a private equity-funded megagroup with deep pockets. As of 2021, it employed 18,000 healthcare professionals at 3400 facilities.
In December 2021, a Nevada jury directed UnitedHealthcare to pay TeamHealth almost $63 million in damages, and in December 2022, a Florida judicial arbitration panel directed United to pay an additional $13.6 million to TeamHealth, according to Justin C. Fineberg, a Miami attorney representing TeamHealth.
The Nevada verdict cited "oppression, fraud, or malice" by United. Fineberg said that even though more than a year has passed, there is still no evidence that the insurer has changed any of its OON policies.
Feinberg is optimistic, however, that United will do so in time. "Getting United to change is like trying to turn an oil tanker at sea," he said. "Insurance companies make litigation time consuming and expensive, but eventually, the verdicts will have an effect." He added that TeamHealth has eight more active lawsuits against United.
Will insurers really change their ways? While doctors such as Shangold are guardedly optimistic, Zetter is not. "Lawsuits won't stop the insurers," the consultant said. "I've seen it before: When they lose in court, they pay millions of dollars in penalties and keep on doing what they were doing. It's less expensive that way."
For more news, follow Medscape on Facebook, Twitter, Instagram, and YouTube.
Source: Read Full Article