How do you decide if you need another booster? And does it matter which vaccine you get?
The biggest one-month arrival of vaccines since late 2021 is on its way to Australia, as a new booster becomes available. "We're getting the most up-to-date version of the vaccine for Australians," Health Minister Mark Butler has said.
Some 10 million doses of the latest Pfizer Omicron-specific vaccine are due to arrive this month, adding to 4 million Omicron-specific bivalent BA.1 vaccines already here.
So, how do you decide if you need this booster? And does it matter which vaccine you get?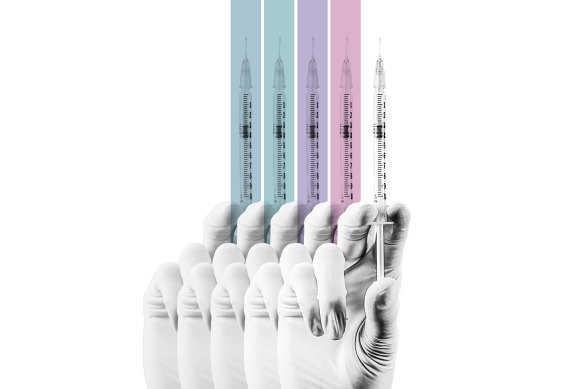 Credit: Artwork Steve Kiprillis
Who's eligible?
All Australians 18 and older who haven't had a COVID-19 infection or vaccination in the past six months can get an extra booster shot from February 20. The Australian Technical Advisory Group on Immunisation (ATAGI) is recommending the booster, in particular, for people who are at risk of severe illness.
"It's especially important for the vulnerable," says Robert Booy, honorary professor at Sydney Infectious Diseases Institute at the University of Sydney, adding that could be someone who is disabled, has multiple medical problems, is immunosuppressed, is 65 or older and Indigenous Australians.
Children aged between five and 17 with a health condition that puts them at risk of severe illness are also eligible.
If you're not at particular risk, should you bother?
Most people have hybrid immunity through past vaccinations and/or having had COVID-19, says Catherine Bennett, chair of epidemiology at Deakin University. "Really, the focus is on those at risk of more severe illness," she says. "It might make a difference if there are people that have had COVID but were actually quite unwell with that – that might help reduce symptomatic illness. And it might, for a while, get a bit of protection against infection." This is why even young fit adults with some hybrid immunity, and who weren't previously unwell with COVID, might decide another booster is worth it, to enable them to be more relaxed around relatives or the elderly.
Booy says people in their 40s and up may reasonably decide that the benefits of an additional booster outweigh the risks of suffering an adverse reaction to it, such as muscle and joint pain, fever, fatigue and vomiting, or myocarditis and pericarditis.
The mRNA vaccines have been associated with an extremely rare risk of developing myocarditis (inflammation of the heart muscle), mostly in males under 30. Side effects usually go away without complications, although rare cases can lead to permanent damage of the heart muscle and possibly cause heart failure. "The risk of severe disease [with COVID] at 22 is very low, and the risk of myocarditis if you're a 22-year-old male is about one in 5000," says Booy. "That usually goes away quickly, but not always. Most cases are over in one, two weeks. Occasionally, one gets ongoing symptoms."
What if you haven't had other boosters before?
You don't have to go back and get them before getting the newest booster, says Bennett. But you should have already received your first two-dose vaccine course.
Does it matter which booster vaccine you get?
ATAGI has advised that Omicron-specific mRNA booster vaccines are the preferred option. This means the Moderna or Pfizer BA.1 vaccine, which is already available, or the Pfizer BA.4[-5] vaccine, which protects against the BA.4 and 5 subvariants that caused a wave of cases in Australia last winter. Both are bivalent vaccines, meaning they target both the original COVID strain and the Omicron variant in a single shot. All available COVID-19 vaccines would provide a benefit, according to ATAGI.
But is the fifth vaccine better?
"No," says Booy. "Either is effective and appropriate. [And] you might miss out on your booster entirely if you wait for the BA.4[-5]. You might get an infection before you get protection from a booster. So, the official advice, and I agree with it, is to get the booster you can get."
ATAGI recommends an original COVID-19 vaccine in children aged five to 11 who require a booster.
How effective are the booster vaccines?
"There's still some trial data being collected formally, but [ATAGI] has actually approved [it] based on laboratory data that showed an eight-fold increase in antibodies circulation in someone who had these new [Omicron-specific] boosters," says Bennett. "What we're hearing from overseas with these latest bivalent vaccines – which came out from the CDC [Centres for Disease Control and Prevention, the national public health agency in the United States] – they are seeing an actual reduction in infection rates, not a big reduction, but still a reduction in those that have a more recent booster."
Bennett says they "do better" against the mix of variants that are currently in the community, in comparison with the older, monovalent vaccines. They might also help reduce symptomatic illness if you contract COVID, she says.
Professor Bruce Thompson, head of the Melbourne School of Health Science at The University of Melbourne, says: "The main thing, if you contract the virus, it changes the nature of it, makes it much less severe, and you're very unlikely to go to hospital."
Bennett says that our focus should also still be on protecting vulnerable Australians. "We are still seeing it [COVID-19] being a leading cause of death in elderly," she says.
The CDC report notes that although the long-term protection provided by bivalent vaccines has yet to be assessed, there is an observation of "waning protection against infection three months after" the booster.
Can the new booster help protect us against long COVID?
"[The data] is still coming in because it has only been used for a few months, but the evidence we have is that the immunised get less long COVID," says Booy.
What about potential side effects?
"It's generally well tolerated, and people who have had it [a COVID vaccine] before aren't finding new side effects," says Booy about the new bivalent vaccines, which were rolled out in the United States and Britain last year. "There are rare side effects, which we recognise [with COVID vaccines], but they're not occurring more often this time around," he says, referring to myocarditis and pericarditis (inflammation of the tissue surrounding the heart). "And it may be less common," Booy says, due to how widely spaced apart this latest immunisation is from previous ones.
Anyone who has had an adverse reaction from a previous COVID vaccine should speak to their doctor before getting an additional booster.
Should I get the booster now or wait until it's closer to winter?
Bennett says: "I do think for people who are more than six months out [from a COVID infection or a COVID vaccine] if you have an interest, you may as well have it now. The worst thing is waiting for winter and you get the infection [before the season hits]."
Sign up for our Explainer newsletter – enlightening explanations for complex questions, delivered to your inbox every Sunday night.
If you'd like some expert background on an issue or a news event, drop us a line at [email protected] or [email protected]. Read more explainers here.
Most Viewed in Lifestyle
Source: Read Full Article