Editor's note: Find the latest COVID-19 news and guidance in Medscape's Coronavirus Resource Center.
New cases of COVID-19 rose among children for the fourth consecutive week, but the size of the increase declined for the second consecutive week, based on data from the American Academy of Pediatrics and the Children's Hospital Association.
After new child cases jumped by 22% during the week of July 15-21, the two successive weeks have produced increases of 3.9% (July 22-29) and 1.2% (July 30-Aug. 4). The latest weekly count from all states and territories still reporting was 96,599, the AAP and CHA said in their weekly COVID report, noting that several states have stopped reporting child cases and that others are reporting every other week.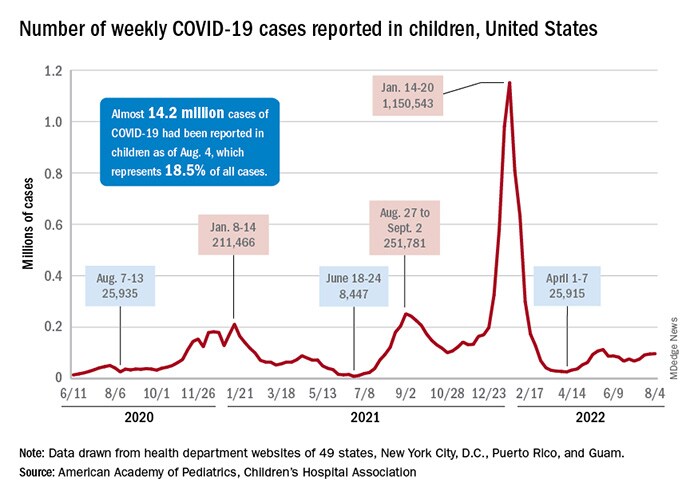 The deceleration in new cases, however, does not apply to emergency department visits and hospital admissions. The proportion of ED visits with diagnosed COVID rose steadily throughout June and July, as 7-day averages went from 2.6% on June 1 to 6.3% on July 31 for children aged 0-11 years, from 2.1% to 3.1% for children aged 12-15, and from 2.4% to 3.5% for 16- to 17-year-olds, according to data from the Centers for Disease Control and Prevention.
The rate of new admissions with confirmed COVID, which reached 0.46 per 100,000 population for children aged 0-17 years on July 30, has more than tripled since early April, when it had fallen to 0.13 per 100,000 in the wake of the Omicron surge, the CDC reported on its COVID Data Tracker.
A smaller but more detailed sample of children from the COVID-19–Associated Hospitalization Network (COVID-NET), which covers nearly 100 counties in 14 states, indicates that the increase in new admissions is occurring almost entirely among children aged 0-4 years, who had a rate of 5.6 per 100,000 for the week of July 17-23, compared with 0.8 per 100,000 for 5- to 11-year-olds and 1.5 per 100,000 for those aged 12-17, the CDC said.
Vaccine's Summer Rollout Gets Lukewarm Reception
As a group, children aged 0-4 years have not exactly flocked to the COVID-19 vaccine. As of Aug. 2 – about 6 weeks since the vaccine was authorized for children aged 6 months to 4 years – just 3.8% of those eligible had received at least one dose. Among children aged 5-11 the corresponding number on Aug. 2 was 37.4%, and for those aged 12-17 years it was 70.3%, the CDC data show.
That 3.8% of children aged less than 5 years represents almost 756,000 initial doses. That compares with over 6 million children aged 5-11 years who had received at least one dose through the first 6 weeks of their vaccination experience and over 5 million children aged 12-15, according to the COVID Data Tracker.
This article originally appeared on MDedge.com, part of the Medscape Professional Network.
Source: Read Full Article