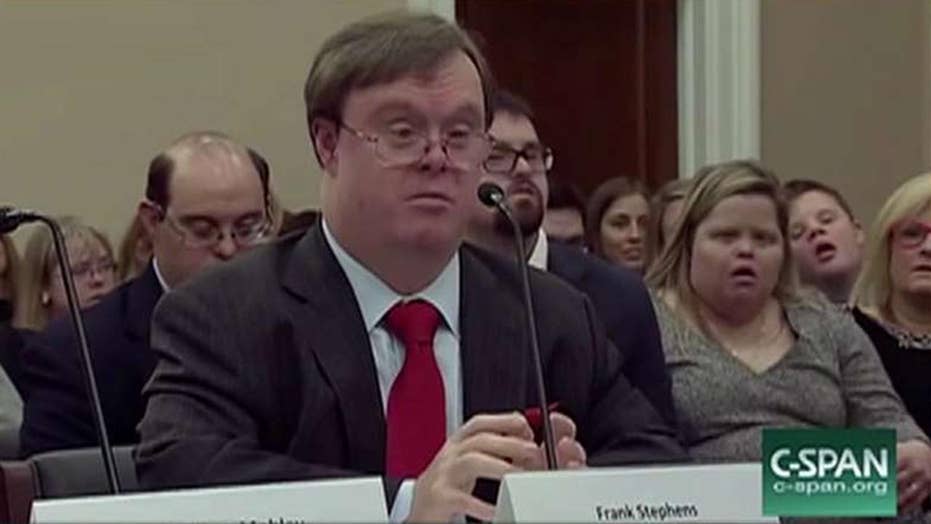 'My life is worth living': Man with Down syndrome's 2017 testimony goes viral
Actor and Special Olympian Frank Stephens' 2017 congressional testimony goes viral after actor Ashton Kutcher posts the video on social media amid the late-term abortion debate.
Video of Special Olympian Frank Stephens' 2017 testimony in front of Congress is going viral again after actor Ashton Kutcher posted it to his Facebook page last week with the message "Everyone's life is valuable." Kutcher's post comes amid a reignited debate partly led by New York's recent passing of a controversial state law that loosens the rules on abortion, and Virginia's proposed bill that would eliminate a requirement for two physicians to certify that a third-trimester abortion is necessary to prevent the woman's death or impairment of her mental or physical health.
The move to secure states' rights on abortion comes as pro-choice activists voice concern that the newly elected Supreme Court will work to overturn the 1973 Roe V. Wade decision that made abortions legal.
Virginia Democratic Del. Kathy Tran, the sponsor of her state's Repeal Act, has said that it "eliminates medically unnecessary and unduly burdensome requirements that make it difficult to make health care decisions about their own bodies."
DOCTOR WHO PRESCRIBED POT COOKIES TO 4-YEAR-OLD FOR 'TEMPER TANTRUMS' GETS LICENSE REVOKED OVER DIAGNOSIS
Several other states including Rhode Island, Virginia, Washington, Massachusetts and New Mexico have either loosened regulations on the procedure or passed new laws to expand access.
Many who commented on Kutcher's post took pro-life stances arguing against the recent legislation, although the actor did not mention any laws in his initial post.
In Oct. 2017, Stephens headed to Capitol Hill to plead his case against elective abortion for babies with Down syndrome, and movingly declared, "I am a man with Down syndrome and my life is worth living."
TUCKER CARLSON AND PRO-CHOICE ADVOCATE HAVE HEATED DEBATE ON VIRGINIA ABORTION BILL
Stephens argued to allocate federal funding for research that would help people with Down syndrome.
"Sadly, across the world, a notion is being sold that maybe we don't need research concerning Down syndrome," Stephens testified, in part. "Some people say prenatal screens will identify Down syndrome in the womb and those pregnancies will just be terminated. It's hard for me to sit here and say those words. I completely understand that the people pushing this particular 'final solution' are saying that people like me should not exist. That final view is deeply prejudice by an outdated idea of life with Down syndrome. Seriously, I have a great life!"
Kutcher's post had been viewed over 5.4 million times since it was posted last Friday.
Source: Read Full Article